Great news, everybody!!! Bear In The Pantry has partnered up with ZipList, an online grocery list and recipe clipping site, to help you save time and money.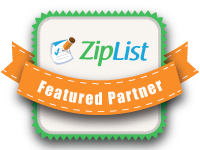 Here's how it works:
Create an account ….. ZipList Shopping List and ZipList Recipe Box ….. this takes about 2 minutes and it's free.
Look for the little blue Save Recipe button on all of Bear In The Pantry's recipes, in the upper right hand corner next to the Print button, click on them to add to your personal recipe box.
To ZipList recipes on sites without this feature just install a ZipList button to your toolbar (Just like on Pinterest). As you are browsing the web for recipes you can zip them into your recipe box for later. You can also create a shopping list from the recipes in your box.
Use ZipList to simplify your grocery shopping and organize your recipes.
I hope this added feature will make visits here even more enjoyable, and I encourage you to use our share buttons to share any way you choose.