Show you care; say it with love.
What I mean is that one of the best ways to show love to someone is through food that you make. It's amazing what something homemade, made with love, can do for someone; how it can lift their day and make them feel better. And you too in the process.
As always with dear friends, this was never more true than this past Sunday when I went to visit very dear friends, Eve, Mike, and Wally. We already had plans to get together that day for around the lunch/brunch time but no real firm plans as to what we would actually do. Sadly a lot changed Saturday morning when I found out that Mike's grandpa had passed away the day before. They still wanted to get together so plans got set really fast that we would stay in at their place and just chill. Mike loves banana desserts and Eve asked that I make something to make him feel better, possibly banana ice cream since we had just bought the new ice cream machine last week. I remembered he really liked the banana bread I make and he really loved it when I put in chocolate chips. How could I not make Chocolate Chip Banana Bread?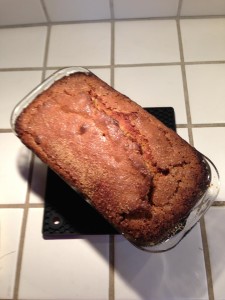 Click here for the recipe.