It's Fall. It's pumpkin season. And nothing scream Fall like pumpkin pie. It's the thing that we really only indulge in during this season. Whenever else do you eat pumpkin pie? Same here. That said, I love a good pumpkin pie, but more importantly I love the spices that go into it. Fortunately most good spice companies make a pumpkin pie spice that does the job just fine.
This very moist pumpkin bread was inspired by something I ran across on the web and it really needs no other adornment than the subtle seasoning of pumpkin pie spice … but why stop there. Throw in your favorite chocolate chips/morsels, some nuts – pecans and walnuts are most appropriate, and make it your own. To take mine completely over the top I decided to do a raw sugar crust on top of each loaf. I first made this during Fall 2012 and went the raw sugar crust route, it seems to be a hit on any yummy quick bread.
A very important note, this bread is better the next day after you bake it. Seriously. After you take it out of the oven and let it completely cool, wrap it up in plastic wrap and leave it for 24 hours. You won't be sorry!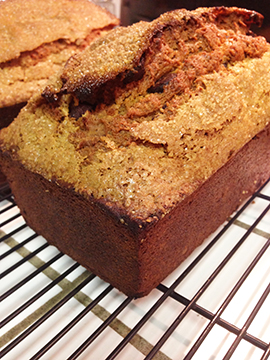 Pumpkin Pie Bread with Dark Chocolate Morsels
Author:
Bear In The Pantry
Recipe type:
Baking - Seasonal
Ingredients
3½ cups all-purpose flour
2 teaspoons baking soda
1 teaspoon baking powder
3 teaspoons pumpkin pie spice
1 teaspoon salt
3 cups white sugar
1 cup vegetable oil
4 eggs
1 tsp vanilla extract
1 (15 ounce) can pumpkin puree
½ cup water or apple juice
1 - 10 oz bag of chocolate chips/morsels
½ - 1 cup raw sugar, divided
Instructions
Preheat oven to 350º F. Grease two 9x5 inch loaf pans.
Sift together the flour, baking soda, baking powder, salt, and pumpkin pie spice. Set aside.
In a large bowl, beat together sugar, oil, eggs, vanilla, and pumpkin. Stir in flour mixture alternating with water, add chocolate chips.
Divide batter evenly between the prepared pans. Sprinkle divided raw sugar evenly on each loaf.
Bake in preheated oven for 65 to 75 minutes, or until a toothpick inserted into the center comes out clean.
For best flavor, store wrapped in plastic wrap at room temperature for a full day before serving.