Here is a great recipe for using up Thanksgiving leftovers. It is a Stuffing Turkey Frittata and can be made for breakfast/brunch, but would also made a great dinner with a fresh side salad. To take it out-of-this-world, top it off with either hot sauce or cranberry sauce after you cut a slice. Absolutely fabulous!!!
NOTE: This isn't just for Thanksgiving leftovers. It can be made with good old Stovetop stuffing any day of the year.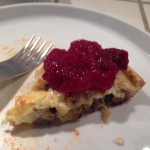 Stuffing Turkey Frittata
Author:
Bear In The Pantry
Prep time:
Cook time:
Total time:
Ingredients
Non-stick cooking spray
2 cups leftover stuffing
1 cup of diced leftover turkey
1 cup of shredded cheddar cheese
8 large eggs
¾ cup milk
¼ teaspoon ground fresh nutmeg
2 tablespoons grated Parmesan
Pinch of red pepper flakes
Salt and pepper
Instructions
Preheat oven to 400
Coat an ovenproof nonstick skillet with cooking spray. Place over medium heat (on stovetop).
Mix stuffing and turkey in a bowl, put mixture in the bottom of pan to warm through. Sprinkle grated cheddar cheese over top when warm.
In a medium bowl, whisk together eggs, milk, red pepper flakes, and nutmeg. Add salt and pepper to taste, remember that seasoning was used in the stuffing so don't overdo it.
Pour egg mixture over stuffing, turkey, and cheese to cover. Sprinkle Parmesan over top and carefully transfer to preheated oven. Bake until the eggs are set and the sides have puffed up a little bit and cheese is golden, about 15 to 20 minutes.
Cool before cutting.