Cranberries are such an underutilized ingredient. I first had this recipe in the mid-late 1990s at a potluck Thanksgiving dinner hosted by a very dear friend. It completely changed my outlook on how cranberry dishes could taste and I try to make it each year for our Thanksgiving dinner.
This version, adapted from the classic Ocean Spray recipe, packs a super fresh punch of tart, sweet, and orange that just can't be beat. And to take it over-the-top I like to add 1/4-1/2 cup of Grand Marnier or Cointreau to really brighten up that orange flavor. I love it with breakfast, lunch, and dinner because it adds an incredible freshness to so many foods. This dish can be made anytime of the year, not just at Thanksgiving.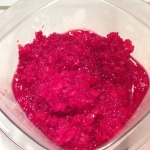 Easy Cranberry Relish
Author:
Bear In The Pantry
Prep time:
Cook time:
Total time:
Ingredients
1 - 12 oz bag fresh cranberries
1 medium/large seedless Navel orange, cut into 8 segments with skin on
1 cup granulated sugar
¼ - ½ cup Grand Marnier, Cointreau, or your favorite orange liquer
Instructions
Put all ingredients into a food processor and pulse until everything is mixed up thoroughly and you have a consistent relish. Don't over-process, you want some texture not a fully blended product.
Store in the fridge in an airtight container for 7-10 days.