Just in time for Thanksgiving I give you Pumpkin Pie Cheesecake. I've made this now two times over the past three weeks and one of those times was a special request, it's that good … and SO easy to make!
The basic recipe calls for a graham cracker crust, we all know how yummy those are. We decided to kick ours up a bit and start with a custom crust made out of Lu Cinnamon Sugar Spice cookies. We are able to get these cookies at our local Safeway so hopefully they are easy to find wherever you shop. Do a Google search to see what the box looks like and where you can get them in your area.
The recipe is super easy, if you've ever made a graham cracker crust (speaking of that) then you can make this. It's basically one box of the cookies pulverized in a food processor into crumbs, 1/3 cup sugar, and 6 oz of melted butter. Mix all that up and press into an 8″ or 9″ pie pan covering the bottom and sides evenly. You can also use a tart pan making sure to press the crumbs in evenly. Bake for 8-10 minutes at 350 degrees and let cool before putting in the filling.
Here's the recipe with a graham cracker crust, you can buy these pre-made at the grocery store to save a little time: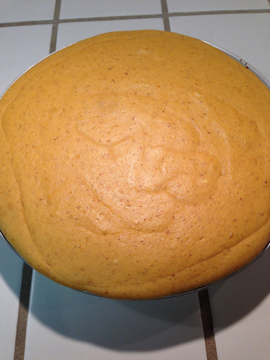 Pumpkin Pie Cheesecake
Author:
Bear In The Pantry
Ingredients
2 - 8 oz packages cream cheese, softened
½ cup white sugar
1 tsp vanilla extract
2 eggs
2 tsp pumpkin pie spice
1 cup pumpkin purée
1 - 9" graham cracker crust, or make a custom crust out of any cookie you like
Instructions
Preheat oven to 325º F.
In a large bowl, combine cream cheese, sugar, and vanilla, beat until smooth. Blend in eggs one at a time.
Add pumpkin pie spice and pumpkin purée, mix until well incorporated.
Pour into crust.
Bake in preheated oven in a water bath for 35-40 minutes, or until center is almost set.
Allow to completely cool, then refrigerate for at least 3 hours or overnight. If desired, top with whipped cream.